(YouTube | Getty | Twitter)
A few buzzworthy tidbits from around the web to distract you from your work day.
The time football legend Joe Namath busted a Pharrell...

Joe Namath effectively stopped the Internet by showing up to the Super Bowl coin toss in an extravagant mink coat. Now,
everybody
wants to know if his style was better than Macklemore and the Ikea Monkey. My vote: This guy wins.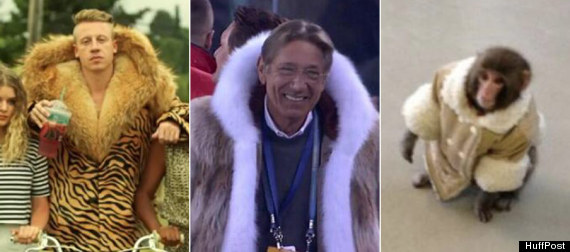 Here are the two GIFs from last night's New Girl you have to see.
Prince
made his proud return to television on Sunday night's episode of
New Girl
. I was
excited
, but probably not as excited as Nick and Jess...

This Taylor Swift fan had way too much fun.

Over the weekend, one energetic
Taylor Swift
fan bolted on stage at the end of her London concert. As one would expect, Swifty handled the situation gracefully...





This is probably the youngest Parks and Recreation fan EVER.

We know, we know: The
Parks and Rec
theme song is one of the happiest theme songs ever. It makes us want to dance a jig just like this adorable kid.



If Cinderella was on Tinder...

Imagine for a second that Cinderella lived in the 21st century and harnessed the powers of the dating app Tinder to find her Prince Charming. How would she navigate? College Humor has a few ideas: