Getty Images
Christina Hendricks
, the redhead star of Mad Men, just got voted the Hottest Woman Ever by an
Esquire
readers pole, according to
JustJared.com
. That landed her the cover of the men's mag's May 'Women' issue.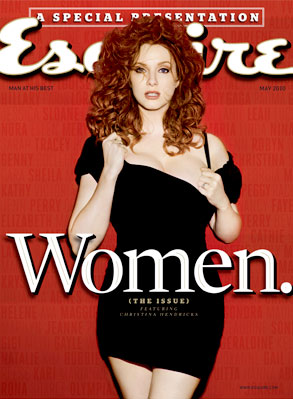 Christina Hendricks on the cover of May's Esquire. (via JustJared)

The 34-year-old spoke on behalf of ladies everywhere in her article in the issue, called "Christina Hendricks: A Letter to Men." She shared some of her insight in the piece -- like women want a man who orders Scotch, suggests a guy really try to remember what his girl likes, and says never talking smack about a lady's friends, for starters.
"We also remember everything you say about our bodies, be it good or bad," she said (via
Esquire.com
). "Doesn't matter if it's a compliment. Could be just a comment. Those things you say are stored away in the steel box, and we remember these things verbatim. We remember what you were wearing and the street corner you were standing on when you said it."
Also, get out your Thesaurus, guys, she added: "There are better words than
beautiful. Radiant,
for instance. It's an underused word. It's a very special word. "You are radiant." Also,
enchanting, smoldering, intoxicating, charming, fetching."

See more Christina Hendricks pictures here (click any picture):