(Bauer Griffin)
Teenage Alaskan hunter
Levi Johnston
and Hollywood gossip comedian
Kathy Griffin
got together to form the oddest and most talked-about couple at the Teen Choice Awards on Sunday.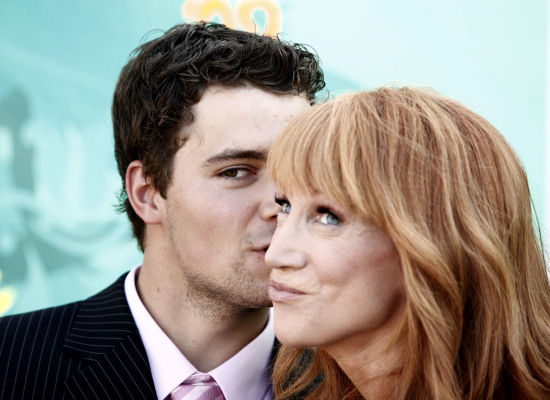 Levi Johnston kisses Kathy Griffin. (AP Photo)

Everyone whose seen the pictures can't help but wonder, how did Levi, 19, and Griffin, 48, end up arm-in-arm?
"She's beautiful and funny," Johnston
told Access Hollywood
. "She's the star of the night."
Johnston was in town to do a shoot for
Vanity Fair
, and it looks like he's adjusting to the public spotlight nicely. It was just a couple months ago that he bristled at the prospect of
dressing to fit into the celebrity scene
, and now he's out in a pinstripe suit and a pink tie, with Hollywood's queen of the "D-List."
Griffin joked that the two have been secretly dating for months. "Long-distance relationships are not easy, especially when he's in his igloo and I'm in my Hollywood tower," she said.
When asked how his son, Tripp, was doing, Levi answered, "He's good. He's doing really good."
Teen Choice Awards: Arrivals