Singer Nelly Furtado performs onstage at the 2009 ALMA Awards held at Royce Hall on September 17, 2009 in Los Angeles, California. (Getty Images)more pics

»
Nelly Furtado
has been famous for almost a decade, but the singer admits she initially struggled to cope with her newfound fame. Nelly says she used to spend a significant amount of time alone, even though it seemed she was enjoying her life. She said: "Fame took me by surprise and I ended up having a breakdown. It was too much too soon. After two years of intense touring and partying I'd spend hours alone in my LA home, just staring at the floor. I felt like a fraud, believing that people liked me for my image and not my music."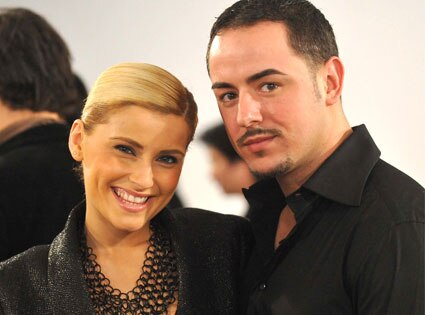 Nelly and husband Demacio Castellon (via EOnline)

Although she has recovered, Nelly, who's married to sound engineer
Demacio Castellon
and has a six-year-old daughter from a previous relationship, admits she would like to spend more time by herself but her lifestyle doesn't allow it. She told Britain's Live! magazine: "There are times when I long to be a hermit living in a cottage. I often crave that sort of solitude. But having a husband and a daughter tends to get in the way of that."
More pictures of Nelly Furtado (click any photo):