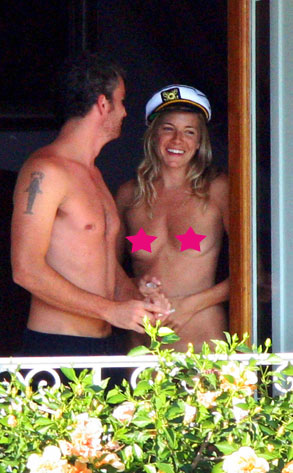 You'd think after going through a very public breakup involving your fiance cheating on you with his nanny, you'd stray away from playing the role of "the other woman." Not
Sienna Miller
.
Miller has taken the roll of home wrecker to an all new level by flaunting her affair with married actor
Balthazar Getty
. Photos of Miller and Getty on the balcony of an Italian hotel room have surfaced, with the actress wearing nothing. Well, let's give her some credit, she was wearing an extremely tacky white sailor's hat.
Getty, who stars in the television show Brothers & Sisters, is married, although People Magazine quotes an unknown source saying the couple has been separated for a while.
Still, Getty has his wife, Rosetta's, name tattooed on his chest, and the couple, who married in 2000, had their fourth child together this past August.
Miller on the other hand has been on the prowl since she broke up with actor
Jude Law
. She reportedly broke up with actor Rhys Ifans only a few weeks ago, but has been linked to Getty for at least two months.
The two reportedly met through Getty's Brother's & Sisters costar, Matthew Rhys, who Miller coincidentally also dated.
So, what have we learned today? That even though you are famous, you can still be a home wrecker. Oh yeah, and if you're going to frolic around naked in front of paparazzi, lose the sailor's hat, it's just not cool.
Image Source Bauer-Griffen.com