Getty Images
It was a big night for
Dancing with the Stars
Tuesday. As predicted,
Tom Delay
bowed out of the competition due to some stress fractures he's developed in his feet, and actress
Debi Mazar
was booted off after performing some not-so-fanciful footwook.
Although Delay has hardly been the strongest contestant throughout the show, he was actually the first to be declared safe for his samba dance this week, which likely made his decision to leave even more difficult. He said, "You can't practice, and if you can't practice you make a fool out of yourself out there, and I don't want to do that to Cheryl [his partner]." He may come back to dance on the show's finale if his feet are feeling up to it. Watch his performance below: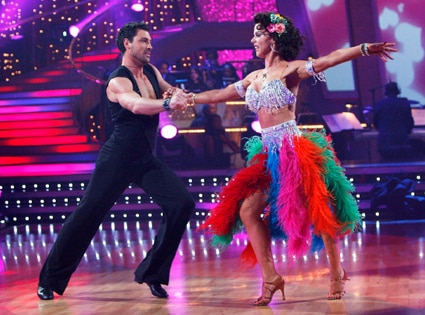 Mazar dancing (via EOnline).

As for Debi Mazar, her dancing apparently just wasn't cutting it. After being dismissed from the competition she said, "Well, I definitely know a few more steps and I've had a great time. I've loved every moment of it…I loved my time with Maks [her partner
Maksim Chmerkovskiy
]."
For those keeping track, that leaves 11 contestants still competing:
Mark Dacascos
,
Michael Irvin
,
Donny Osmond
,
Aaron Carter
,
Chuck Liddell
,
Louie Vito
,
Melissa Joan Hart
,
Mya
,
Natalie Coughlin
,
Joanna Krupa
and
Kelly Osbourne
.
More pictures of Debi Mazar and Tom Delay (click any photo):